CISI annual dinner raises sum of over £8,580 for the Community Foundation for Merseyside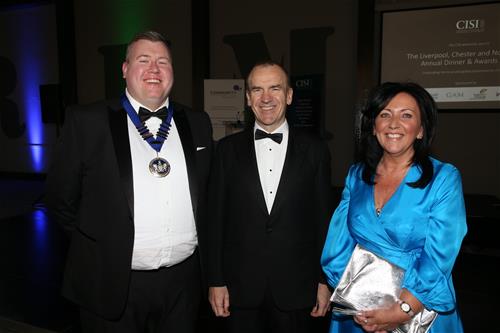 The Community Foundation for Merseyside is the beneficiary of £8,580 raised by the regional branch of a global finance education professional body.
The Community Foundation for Merseyside, which promotes local giving to address local disadvantage, was the chosen charity for the Liverpool branch of the Chartered Institute for Securities & Investment (CISI) recent annual dinner.
The event attracted over 200 attendees and was held within the unique setting of the Titanic Hotel, Stanley Dock. Key speaker for the night was Sir Terry Leahy, who was appointed Chief Executive of Tesco PLC in March 1997 and retired from this position in March 2011. He received a Knighthood for services to food retailing in the 2002 New Year Honours and in the same year was made a Freeman of the City of Liverpool.
James Charlton, Charlton FCSI and CISI Liverpool branch President said: "The 2018 Liverpool, Chester and North Wales Branch Dinner was a resounding success and we were delighted to welcome home one of our own in Sir Terry Leahy. Sir Terry entertained and inspired our guests by giving an insight into his personal and professional achievements - from telling the story of his journey from a council estate in Liverpool to the Boardroom at Tesco to sharing some of his leadership principles that he learnt along the way.
"We were delighted to support the Community Foundation for Merseyside on the evening and we are delighted to have raised over £8,500 for the charity. At a time when inequality is threatening the wellbeing of our communities, I believe that those who are fortunate enough to be able to do so, are obligated to give back, and it was important to us that funds raised went directly to an organisation that makes a material difference within the communities in which we live and work."
Richard Bennett, CISI Regional Director said: "We are delighted to have been able to raise this impressive sum of £8,500 for Community Foundation for Merseyside. Our thanks go to all attendees who were so very generous on the night and to our speaker Sir Terry Leahy."
The CISI is the professional body which sets exams and qualifications for those working in, or looking to develop a career in, the financial planning, wealth management and capital markets profession. Its Liverpool branch has almost 800 members with an active programme throughout the year focusing on continuing professional development. To find out more visit cisi.org